Saint Vincent de Paul
Chapels at
St. Patrick, 415 E 4th Street, Sedalia
St. John the Evangelist, 30628 Hwy V. Smithton
Sacred Heart, 421 W 3rd Street, Sedalia
Masses are currently being live-streamed on our Facebook page which can be found by clicking HERE.
Daily Mass times are as follows:
Tuesday:
6:30am St. Patrick & 8:30am Sacred Heart
Wednesday:
8:30am Sacred Heart & 6:30pm St. Patrick (Spanish)
Thursday and Friday:
6:30am St. Patrick & 8:30am Sacred Heart
Weekend Mass Times:
Saturdays:  4:00pm St. Patrick & 7:30pm St. John
Sundays
8am & 10am Sacred Heart
9am (English) & 11:30am (Spanish) St. Patrick
Confessions:
5:00pm until 6:20pm weekly on Wednesday St. Patrick
Saturday 9:00am until 11:00am Sacred Heart
1st Sunday  9am Sacred Heart
1st Sunday 10am St. Patrick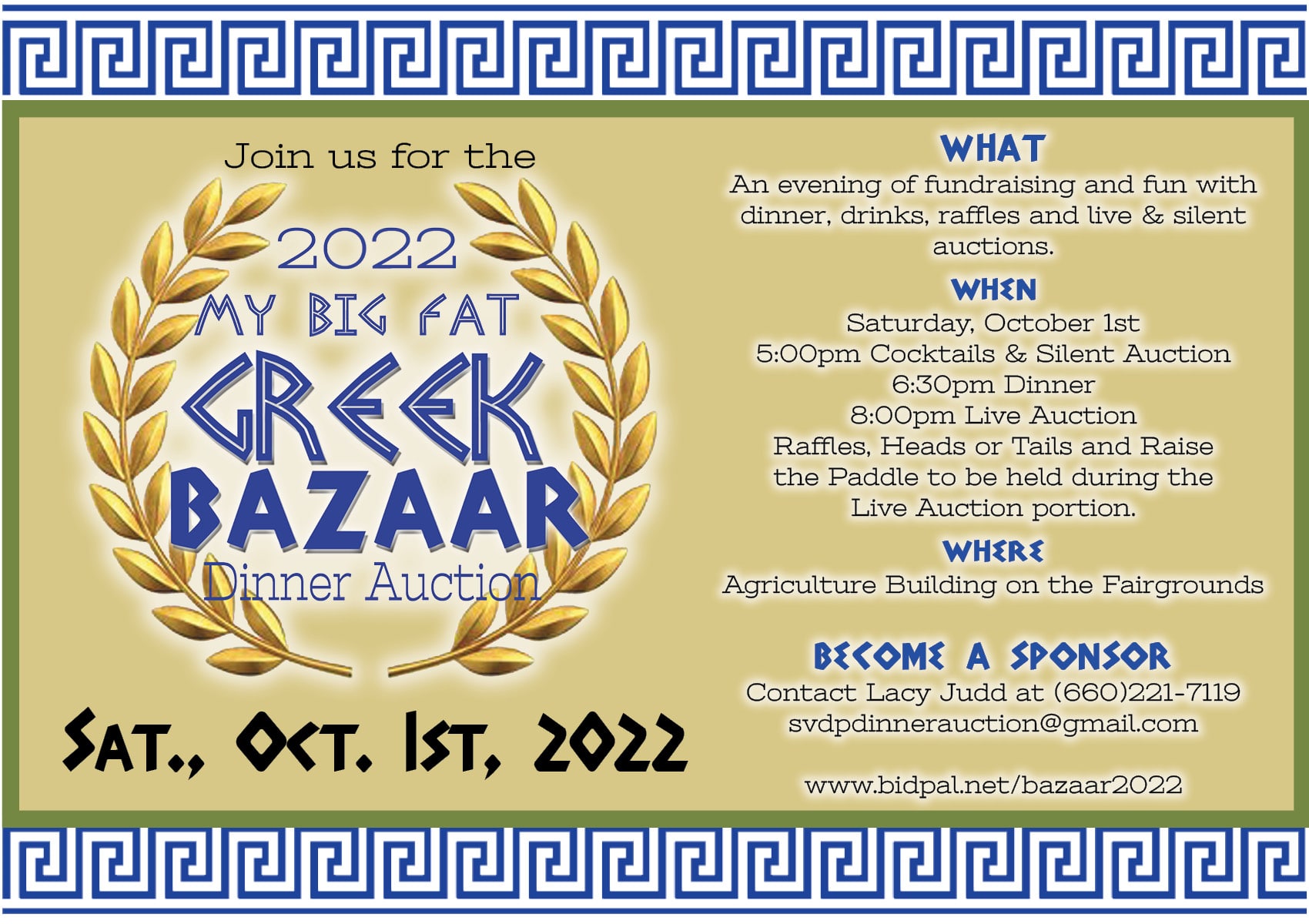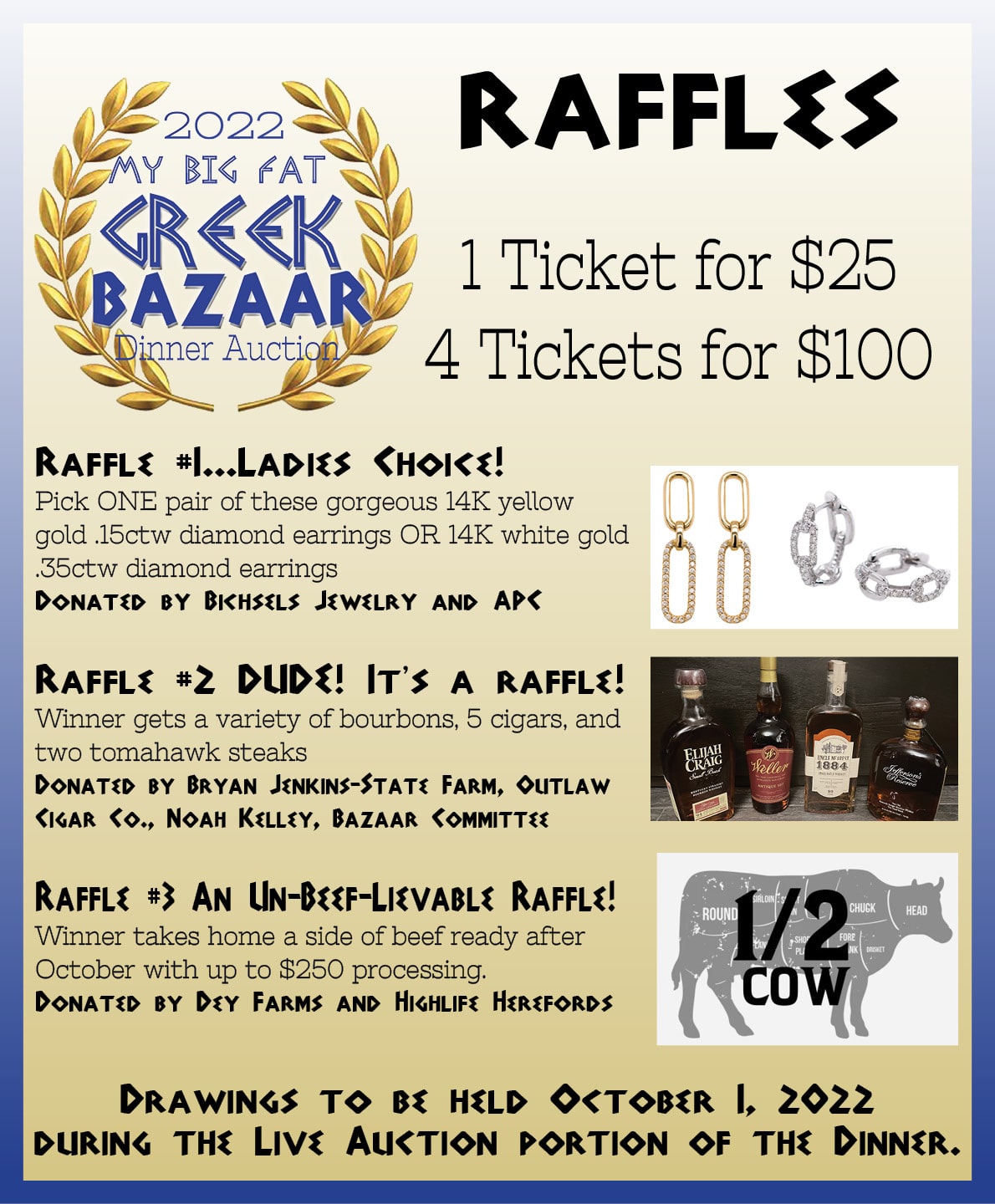 My Big Fat Greek Bazaar Dinner Auction
By Katelin Hladik, Bazaar Chair
October 1st is the seventh annual St. Vincent de Paul Bazaar Dinner Auction. This year's theme is My Big Fat Greek Bazaar. That's right…we are throwing a toga party! So, whether you're a fan of the movie, a lover of Greek food or a fan of philosophy, we know you will have a good time! The evening is sure to be a blast with a Greek-themed menu, music and decorations.
The Bazaar Dinner Auction is the parish's largest fundraising event. Annually, we count on the support of each of you to make it a success. The money raised not only helps support our parish and school, but it allows us to continue our work in the community. This year, we will have a silent auction, a live auction, and raffle items. There are some specific projects we are going to raise money for with our Fund-a-Need category. This includes the replacement of windows and carpeting in the rectory, updates for St Patrick Hall kitchen, and purchasing a 10-burner stove, walk-in cooler and freezer, and hood in the Sacred Heart School cafeteria.
Suzann Jenkins and her crew on the Acquisitions team have put together an impressive list of packages. Some of the items available include hand-crafted woodwork from Fr. Mark Miller, a one-of-a-kind art piece featuring Mary and Jesus from Sacred Heart Student Abby Arnold, a 10-foot hand turned harvest table made by Bob Simon, and much more!
Your support of the auction is critical to both the parish and school's immediate and future needs. This year, we are excited to give everyone the opportunity to participate virtually if they cannot be there that evening. Simply visit our website www.bidpal.net/bazaar2022 and create a login. There, you will be able to bid on silent auction items, view the live auction items, purchase raffle tickets and donate to the Fund-a-Need.
We would like thank all parishioners of St Vincent de Paul, the wonderful parents & alumni of Sacred Heart School, the generous sponsors and donors and all the other friends who have helped make this event a success year after year. And we look forward to seeing you in toga (or in regular clothing) on October 1st.
Fund-A-Need at Bazaar Dinner Auction
We are so grateful to all who donated to the fund-a-need at the Bazaar Auction the last several years. So many wonderful things have been accomplished through your generosity in past years we have completed:
       

Updating the sitting room at the rectory

       

The walls/roof project at the school

       

Helped teacher with classroom needs

       

And more!
This year we are asking for funds to the parish for the following things:
       

Updating the school cafeteria kitchen

       

Updating the St. Patrick Hall kitchen

       

Window and carpet replacement at the Sacred Heart Rectory
Please take some prayer time to consider making a donation this year to keep our facilities updated, safe and in good repair.